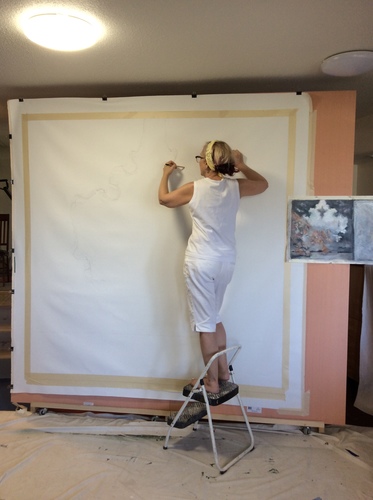 When I was a youth in upstate New York, I ritually climbed a 60-70 foot scrub pine in the woods behind our upstate New York home. Covered in the tree's sticky honey-colored sap, inhaling the tantalizing scent of evergreen, swaying in the wind in the top bough, I created an imaginary world in which I could dance with the white billowing clouds in the baby blue sky. In one meditative moment, I realized that every thing in nature was connected and all was of equal importance.

Painting gives me the freedom to explore the human condition in a global ecosystem. With a multi cultural heritage, trans disciplinary academic background and interest in political and social justice issues, I am drawn to symbolic connections between disparate concepts and search for unexpected associations and commonalities in an increasingly complex world. In my current studio practice, I explore cultural identity, diversity and equality, and how they connect to the environment, science, politics, religion, and memories. As I investigate the physical and spiritual world, I build an iconography of elements from nature, architecture, the periodic table, mythology, philosophy, poetry and verses from religious text including the Bible and Qur'an.

As a painter utilizing mixed media, I interpret traditional landscapes into otherworldly surroundings that at first glance create a dream-like utopian calm but could signal an impending storm. Juxtaposing the physical world and the spiritual world translate into fusing abstraction and realism and surrealism and expressionism. I work intuitively embracing vivid color, gestural mark-making and sweeping brushstrokes of thin and thick paint to allow for the beauty of unbridled accident and the play between perception and perspective.

As a result, my art aims to lay fertile ground for planting new seeds of thought, growing awareness, and cultivating colorful conversation and controversy about the human condition through cultural and environmental connections. By linking nature and human nature, cultural diversity and biodiversity, spirituality and sustainability I aim to blur the lines between differences and embrace similarities.