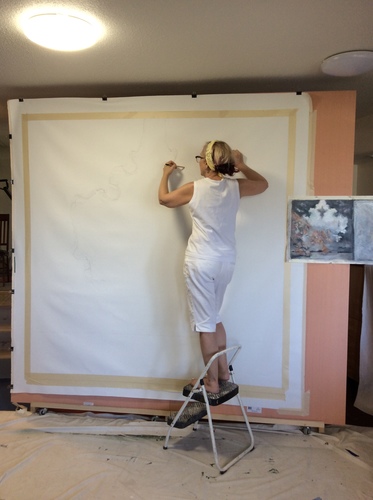 When I was a youth in upstate New York, I ritually climbed a 60-70 foot scrub pine in the woods behind our house. Covered in the tree's sticky honey-colored sap, inhaling the tantalizing scent of evergreen, swaying in the wind in the top bow, I created an imaginary world in which I could dance with the white billowing clouds in the baby blue sky. In one meditative moment, I realized that every thing in nature was connected and all was of equal importance.

Connecting nature and human nature comes naturally. Painting gives me the freedom to express these concepts that have personal meaning to me.

Over the years I have investigated political and social justice issues in my artwork. In my current studio practice, I am exploring cultural identity, diversity and equality, and how they connect to the environment, science, politics, religion, and memories. Searching for unexpected associations and commonalities in an increasingly complex world results in levels of thought-provoking ideas in my artwork. As I research subject matter and translate it on canvas and paper, I ask, "What is my place in a global community? What will the world look like as we collectively make our mark on the planet? How might the connection between biodiversity and cultural diversity create unity locally, nationally and internationally? How does the past inform our present and future?"

As I paint, I interpret traditional landscapes into otherworldly surroundings that at first glance create a dream-like utopian calm but could signal an impending storm. Activating a combination of abstraction and realism, I work intuitively utilizing vivid color, gestural mark-making and sweeping brushstrokes of thin and thick paint to allow the beauty of unbridled accident, play with perception and perspective, and layer depth of meaning and media.

By building an iconography of spiritually charged clouds, people, animals, architecture, language and elements of the periodic table, parallels are made. Words in various languages have floated lyrically in my visual story telling over the years. In my current body of work, I utilize verses and words with environmental themes from the Bible and Qur'an, written in English, Hebrew, and Arabic embracing our similarities.

As a result, my art has aimed to lay fertile ground for planting new seeds of thought, growing awareness, and cultivating colorful conversation about the human condition through cultural and environmental connections.