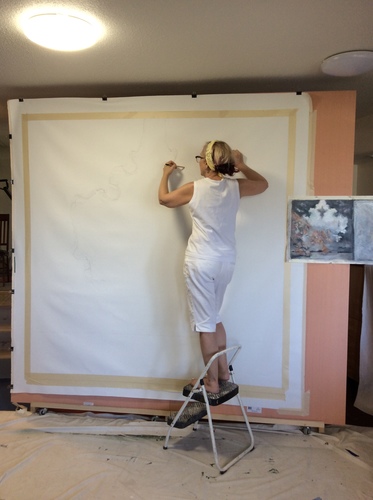 An artist residency in Colorado in 2016 proved to be transformative! As a painter this month-long pivotal experience, which focused on sustainability, informed my direction significantly. The paintings shifted in subject matter, with images more complex and the canvases much larger in scale.

I am currently examining themes of cultural identity, diversity and equality, and how they connect to science, politics and religion. My philosophy is that everything in nature is equally important for global sustainability. Inspired by Rabbinic Midrashic exegesis tradition, I seek to find commonality and associations in an increasingly complex world; to interpret and stimulate discourse and debate about the human condition through cultural and environmental connections.

Intuition guides my painting process of gestural mark making combining surreal and realistic imagery. I want to challenge and reinterpret traditional landscapes and cityscapes in imagined, otherworldly ecosystems. Iconography in my current series Democratized Ecosystems includes spiritually charged clouds, people, animals, architecture, and elements of the periodic table.

Language has been an important aspect of my work throughout the years. In this body of work, I have utilized verses and words with an environmental reference from the Bible and Qur'an, in English, Hebrew, and Arabic. The result is a connection of culture through science and religion.

Sharing this thematic thread, the work has expanded to include mixed media collage and digitally manipulated photography.